Product Description

Player who is looking for higher trajectory.
Lady golfer who has higher swing speed than avarage lady golfer.
Player who would like to gain distance easily by using slightly heavier shaft.
Player who is aiming for straighter shot.
Carry distance, easy-to-hit,easy-to-address The best BERES Iron ever.
Higher carry performance
With the New face structure, the stress on impact is concentrated and the energy is transferred to the ball without loss, providing a longer carry distance.
The face's repulsion area is expanded by 25% (compared to the previous model).
The face area is expanded by removing the welds from the face. It enables higher ball repulsion performance of the entire surface of the face.
The larger head size enhances forgiveness.
Both the face height and width are expanded by 1 mm. The only 1-mm expansion provides comfort to the golfers.
Structural drawings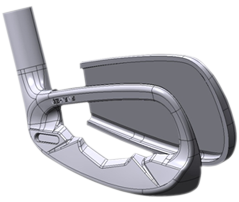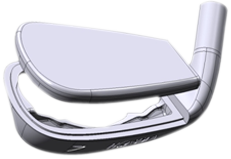 New face structure(#4-8)
The face with the New face structure provides a larger face area, expanding the repulsion area by approximately 25% (Compared to IS-03). This increases the carry performance and reduces loss of distance caused by mishits.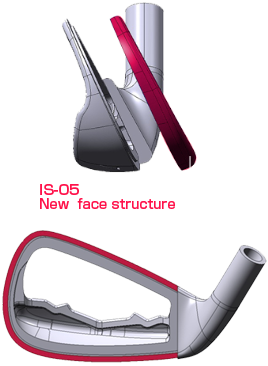 Head size
IS-05 has a larger head size with more forgiveness.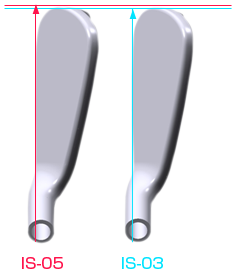 The head length is 1 mm longer than that of the IS-03.
The height of the toe part is 1 mm higher than that of the IS-03.

The head shape looks more upright with the higher toe side, providing visual confidence to players at address.
Compared to the previous model.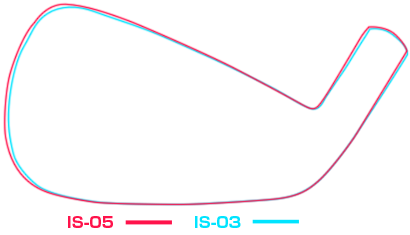 SPEC
Head material/Manufacturing process
Mild Steel/Forged(body)・ Maraging stainless steel(face)
Head plating
Double-layer plating / Satin finish + Painted finish
Shaft
ARMRQ∞ 48, ARMRQ∞ 53, ARMRQ∞ 44
# (No.)
4
5
6
7
8
9
10
11
AW
SW
Length(inches)
38.5
38.0
37.5
37.0
36.5
36.0
35.5
35.0
35.0
35.0
Loft (deg.)
19.5
22.5
25.5
28.5
32.5
36.5
41.5
46.5
51.5
56.0
Lie angle (deg.)
60.5
61.0
61.5
62.0
62.5
63.0
63.0
63.0
63.0
64.0
Face progression(mm)
2.45
2.75
3.05
3.25
3.25
3.25
3.25
3.25
3.25
4.25
Distance to Center of Gravity(mm)
36.5
36.5
37.0
37.0
36.5
36.5
36.5
36.5
36.5
37.0
Height to Center of Gravity(mm)
18.5
19.0
19.5
19.5
20.0
20.0
20.5
21.5
22.0
23.0
Depth to Center of Gravity(mm)
6.5
6.5
6.5
6.0
5.5
4.5
4.0
4.0
3.0
2.5
Gravity Angle(deg.)
–
13.0
–
–
–
–
–
–
–
–
Swing weight・
Gross weight

(g)

ARMRQ∞ 48
R
C8・352
C8・358
C8・365
C8・371
C8・377
C8・384
C8・390
C8・396
C8・396
C9・398
SR
C9・355
C9・361
C9・368
C9・374
C9・380
C9・387
C9・393
C9・399
C9・399
D0・401
S
C9・356
C9・362
C9・369
C9・375
C9・381
C9・388
C9・394
C9・400
C9・400
D0・402
ARMRQ∞ 53
R
C9・358
C9・364
C9・370
C9・376
C9・383
C9・390
C9・396
C9・402
C9・402
D0・405
S
D0・362
D0・368
D0・374
D0・380
D0・387
D0・394
D0・400
D0・406
D0・406
D1・409
ARMRQ∞ 44
R
C8・349
C8・355
C8・361
C8・367
C8・373
C8・380
C8・386
C8・392
C8・392
C9・395
Data refers to the 2S grade
Made in Japan
SHAFT

ARMRQ∞ 48
(Standard feature)
Material
Carbon+eight-axisUD
Kick-point
Low-Mid
Flex
R,SR,S
Butt diameter (mm)
#7
15.3
Tip diameter (mm)
9.3
# (No.)
4
5
6
7
8
9
10
11
AW
SW
Gross weight (g)
R
52.5
53.0
52.5
53.0
52.5
53.0
52.5
52.0
52.0
52.0
SR
54.0
54.5
54.0
54.5
54.0
54.5
54.0
53.5
53.5
53.5
S
55.5
56.0
55.5
56.0
55.5
56.0
55.5
55.0
55.0
55.0
Torque (deg.)
R
3.31
3.24
3.17
3.10
3.03
2.96
2.89
2.82
2.82
2.82
SR
3.26
3.19
3.12
3.05
2.98
2.91
2.84
2.77
2.77
2.77
S
3.21
3.14
3.07
3.00
2.93
2.86
2.79
2.72
2.72
2.72
Frequency (cpm)
R
259
267
275
283
291
299
307
315
315
315
SR
267
275
283
291
299
307
315
323
323
323
S
275
283
291
299
307
315
323
331
331
331
Data refers to the 2S grade/shaft only

ARMRQ∞ 53
Material
Carbon+eight-axisUD
Kick-point
Mid
Flex
R,S
Butt diameter (mm)
#7
15.4
Tip diameter (mm)
9.3
# (No.)
4
5
6
7
8
9
10
11
AW
SW
Gross weight (g)
R
57.0
57.5
57.0
57.5
57.0
57.5
57.0
56.5
56.5
56.5
S
60.0
60.5
60.0
60.5
60.0
60.5
60.0
59.5
59.5
59.5
Torque (deg.)
R
3.11
3.04
2.97
2.90
2.83
2.76
2.69
2.62
2.62
2.62
S
3.01
2.94
2.87
2.80
2.73
2.66
2.59
2.52
2.52
2.52
Frequency (cpm)
R
264
272
280
288
296
304
312
320
320
320
S
280
288
296
304
312
320
328
336
336
336
Data refers to the 2S grade/shaft only

ARMRQ∞ 44
Material
Carbon+eight-axisUD
Kick-point
Low
Flex
R
Butt diameter (mm)
14.5
Tip diameter (mm)
9.3
# (No.)
4
5
6
7
8
9
10
11
AW
SW
Gross weight (g)
47.5
48.0
47.5
48.0
47.5
48.0
47.5
47.0
47.0
47.0
Torque (deg.)
3.75
3.68
3.61
3.54
3.47
3.40
3.33
3.26
3.26
3.26
Frequency (cpm)
244
251
258
265
272
279
286
293
293
293
Data refers to the 2S grade/shaft only
GRIP

| | |
| --- | --- |
| Name | BERES RubberⅢ |
| Material | Rubber |
| Gross weight (g) | 47 |
| Size | 60 |