Product Description

For the player who wants to get a ball easily even late swing.
Player who would like to reduce slice for longer distance.
Player who always would like to hit the ball into fairway.
Player who is looking for higher trajectory with flexibility of shaft and club angle. (Player who is suffering from low Trj' due to luck of power)
All parts developed for the highest performance.
Accomplished further evolution, BERES Ladies.
Easier to grip the ball
The center-of-gravity is set to be low and deep without limit of the internal load and SUS weight screws provides top priority to the grip of balls at any rate.
Hit the ball with better deflection
The deflection achieved by the thinned crown (0.45mm) provides a longer carry distance.
Swing easily
By removing excess weight and by using lighter materials in our designs Honma have made it easier for golfers to execute their shots, this by applying "optimum position design techniques"
Structural drawings
The significantly lighter weight makes optimum center-of-gravity design possible.
The lighter weight material and the thinner crown with 8-1-1 titanium with a low center of gravity provides an excess weight of approximately 10 grams. The internal load of the lower and deeper center of gravity using SUS weight screws helps keep the ball on the club face longer.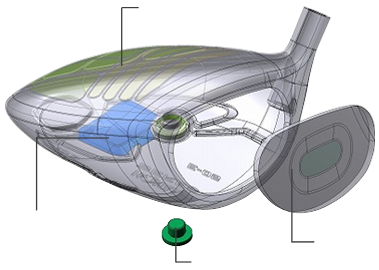 Crown rib structure
The crown rib structure arranged parallel with the surface of the face,
players can easily have deflection of the crown, high trajectories and the longer carry distance.